KINDNESS IS…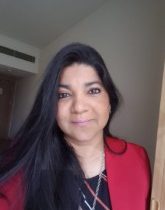 *Kindness* is to stand tall
Although everything around you seems to fall
Chin up, they say, bad times are not meant to stay
You will live to conquer it all.
*Kindness* is being able to hug those that hurt you
Passing on the power of love while in sorrow
Hoping love will pierce their heart like an arrow
Silently aching but not letting it break you
*Kindness* is yours to keep and own
Yet you grow richer by sharing it with the most unknown
Touching every living creature with your grace
Creating a universe, as if it were a birthplace
*Kindness* is being able to forgive and forget
The wrong that is done to you from morn to night
Yet wake up next morning with a smile
To witness another dawn that makes it worth its while
*Kindness* is cherishing every moment in your time
Life can be tough yet so sublime
Uplift your soul to the Divine
Trust in Him to make you shine
Helen Lobo

❤
Helen is a Mumbai girl, at heart is now based in Bahrain, a tiny island in the Middle East also popularly known as the Pearl of the Gulf.  Helen is a Serial Entrepreneur, wife and most of all takes pride in being mum to an adorable 14 year old son who is an excellent drummer.
Helen is a people's person and it came as no surprise that she made an industry leap from Banking to Business Development by creating and nurturing an IT Consultancy and Event Management Company which she co-runs with her very supportive husband. Her passion for meeting the needs and goals of her clients led her to expand the business and start a Training Centre in Bahrain focusing on providing Professional Certifications to Corporates. With the help of a very dedicated team, Helen oversees the businesses with offices in the UK, UAE and India.
Helen enjoys mentoring/counselling millenials and individuals on myriad career paths. Being an avid traveller, making friends with people from all walks of life comes to her naturally. She also enjoys listening to music of all genres, reading, socialising with family and friends. Reaching out to those in need is a true calling.  Writing poetry is a new found creative outlet which she finds extremely therapeutic and fulfilling.
Disclaimer: The views and opinions expressed in this article are those of the author and do not necessarily reflect the views of The Wonder Women World. If you wish to share your views you can reach us at thewonderwomenworld@gmail.com or reach out here CONTACT US