AAMCHI MUMBAI TO NAMMA BENGALURU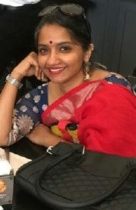 Being a hardcore Mumbaikar, Aamchi Mumbai always rocks. But now Bengaluru is home and it's rocking! It's been a little more then a decade in Bangalore .
Though a typical Tam Bram..never lived in the south of India!
4 generations are settled in Maharashtra, so I was pretty excited to make Bangalore my home. I love Malleswaram so much cause it reminds me of the heart of Mumbai that is Dadar, the flower market, the temples, the music. I just love it.
So we came to Bangalore after globe trotting and realised that this city it is.
As a typical Mumbaikar things are not fast like mumbai ,so it took us a while to understand the culture,the people ,the weather and the snail approach…ayyitu, maadtini!!
This city has given me so much.In gratitude always!
My work began here with a bang,in every vertical that am passionate about .It has never disappointed me.
Now am in love with everything here,the chilled out people ,diverse communities,lovely weather and a typical answer "gottila".
Kinda got used to all this. People here are in their own comfort zone and seldom bother you.
There is lot of harmony and peace around and I always feel it's a "halli" that became a " city", thanks to technology and innovation.
Thank you Bengaluru for everything.
Tumba Khushi ayittu, Bengaluru Namma uru 🙂
Su Iyer
Artiste and creative consultant
Disclaimer: The views and opinions expressed in this article are those of the author and do not necessarily reflect the views of The Wonder Women World. If you wish to share your views you can reach us at thewonderwomenworld@gmail.com or reach out here CONTACT US