BENGALURU WAS THEN CALLED 'BANGALORE'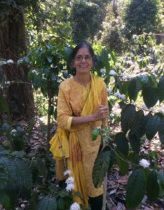 It was the day before Ganesha Chaturthi in 1972! I arrived in Bengaluru with my husband, married for all of two months.
I was very emotional and excited. On one hand, missing my brothers, sister and my loving mother but happy to be with my life partner. We lived together in a small flat in Malleswaram.
Bangalore was a beautiful city with temperatures never more than 60 degrees Fahrenheit, 15.5 degrees Celsius. We needed a thin sweater early in the morning and late in the evening throughout the year. Sankey Tank, In Malleswaram was our delightful spot to walk together in the evening after my husband returned from work. We used to enjoy a cone ice cream during the relaxed stroll!
Ten years of my life in Bengaluru was enjoyable in every way. Malleswaram was very famous for many temples, especially Ganesha temple, Kannika Parameswari temple, Krishna temple were beautiful, in every aspect, less crowded which I visited daily. Sankara Mutt was brand new in 11th cross street, 5th main road in 1972, where we both learnt Lalitha Sahasranamam from a guru.
From there we made a trip to Mysore, Hogenakkal, Shravanabelagola, Chikmagalur and Tumkur.
People predominantly used two-wheelers and bus to move around. I walked, moved around in Sampige Road, Bellary Road, Kempegowda, Seshadripuram, Majestic all my favourite places.
The city was always cool and calm, more of a resort. Often, my friends from Mumbai would come to Bangalore for their honeymoon.
My husband and I went to many movies in Sheshadripuram, Majestic and Navrang theater. We ate in various famous restaurants in and around Bengaluru. They not only had delicious food but wonderful people as well! Halli Mane, New Krishna Bhavan, Adyar Ananda Bhavan, MTR, Krishna sweets were popular few.
We went to Ulsoor lake to enjoy the boat rides on weekends. Hebbal, Yeshwanthpur, new Anjaneya temple were all attractions in the seventies. The air was pure, breezy and beautiful, especially when I was sitting at the back of a Lambretta scooter.
HMT, HAL, MICO were very famous companies with thousands of people working. People of Bangalore were kind, soft spoken open minded and very helpful. I picked up Kannada from the store employees, house maids and neighbors.
My experience in Bangalore was exceptional in building relationships with a new community, learning a new language, a new culture, their cooking recipes and their beliefs. Learnt to make pesarattu and peanut chutney and many more from my neighbors. It was still a cosmopolitan city with people from around the country but we all learnt to speak the local language. I didn't see much difference between Bombay and Bangalore except for the weather.
My children were born at the famous Seetha Bhateja nursing home, a wonderful gynaecologist, practicing even today at 90+ years. Remarkable woman, who made history in her field. With children we enjoyed Lal Bhag, Cubbon Park (that had a children's toy train) and of course MG Road. Unlike today, traffic was very less. More bikes and cycles with few auto rickshas.
I literally fell in love with Malleswaram and Rajaji Nagar and was almost in tears after ten years when I had to leave my precious friends.
Life goes on, retaining old memories and making new friends in new locations. Every change is beautiful, a learning experience, an interaction with new people and I have the habit of retaining friends. Once a friend is a lifelong friend for me.
Bangalore has a special place in my heart and will never be lost. It's never the same when I revisit the place.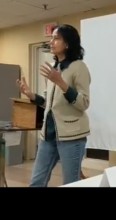 Vijaya Jayaraman
Vijaya, fondly called VJ is a 71 year evergreen personality from Boston, Massachusetts. She has many feathers to her cap, a motivational speaker, a Toastmaster, an avid biker and a hiker to name a few. She has had most of her innings post 55!! Read more of her thoughts here:
Disclaimer: The views and opinions expressed in this article are those of the author and do not necessarily reflect the views of The Wonder Women World. If you wish to share your views you can reach us at thewonderwomenworld@gmail.com or reach out here CONTACT US