GAYATRI ABRAHAM, PADME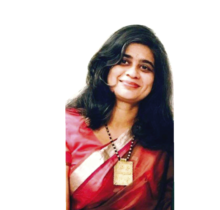 Our children brought a lot of joy and happiness into our lives and I have always thought that it was important for me to share our journey, hoping that it would inspire other parents to not think of adoption as a fall-back option but to view it as an alternate way to start a family.
I have always wanted to contribute towards adoption at some point in my life but had no
idea where and how to begin. I would often speak to many potential adoptive parents and
newly adoptive parents on approaching adoption the right way. I volunteered my time at an adoption agency for a short time, and in fact, that experience gave me an inkling about the areas that I would like to contribute to in adoption. Sometime in 2016, I saw an article that showed very conflicting data that filled me with concern. Central Adoption Resource Authority (CARA), an autonomous body under the Union Ministry of Women and Child Development, recorded 3,677 adoptions for 2015-16. To set the context, a 2007 UNICEF study concluded there were about 25 million orphaned children in India. Another study estimated that 500,000 of them were in childcare institutions. The rest were "outside the system". Of those 500,000 children, 3,264 found homes through adoption that year. Back to the present, even if, hypothetically, the number of orphaned and destitute children has dropped by 25% in nine years, 3,677 is an abysmal figure.
The latest report is that, there are around 15,000 prospective parents in India and only
1,800-2,000 children up for adoption. I couldn't imagine in a country like ours that there are only so many children who are available for adoption. With the new CARA guidelines and adoption going digital, some of the processes have become clear and transparent and more democratic. But, having said that, technology has completely replaced the human emotion and connect. Essentially, while one part of streamlining of the process can be applauded, it has created more vacuum than ever for children with disabilities, older children, siblings and children perceived to have lesser physical attributes (colour of skin, etc). Prior to the digital route, social intervention and counselling could be provided for the
potential adoptive parents. Some seasoned social workers feel that it has been a difficult
road for children who are perceived as difficult to place even prior to the digital route, also,
parallel adoptions (illegal adoptions) are on the rise, which always posed a problem.
This made me re-look at the level that I was operating on – if there was to be a change, it had  to be done on a larger platform, involving all critical stakeholders and the society at large.
This is when the idea of Padme crystallised for me. My personal research indicated that whilst the process is streamlined to some extent, there are certain important missing links that needs to be bridged in whole context of adoption. Padme works towards building a comprehensive resource platform that will bridge the gap between the current situation and adopting a new mindset on adoption. We will work towards demystifying adoption and help mitigate social conditioning which sometimes hamper the decision-making process. Our intended takeaway is to make the whole adoption experience less overwhelming; and have a more balanced approach while tackling concerns arising out of adoption.
The need of the hour is to bring in all critical stakeholders on a common platform – adoptive and potential adoptive parents, the medical and legal community, counsellors, educators – and address the various societal, and process-related concerns. It is important that we bring adoption to the mainstream by educating and sensitising the society as it is crucial to the cause of adoption.
If we move forward with the thought of adoption as just another way to start a family and
not an alternative solution, perhaps when we can see more abandoned/surrendered
children being adopted and finding a family.
We had two very different experiences with our children and at various points in our
journey we had different challenges at a societal level and alongside from a health and
process-related concerns. I strongly believe in the fact that a nurturing environment is
pivotal to a child's emotional and physical well-being. Nature does its part, but nurturing has its own way of adapting to nature. We should approach adoption with an attitude of
compassion with a thought that every child deserves an equal opportunity to have a stable
nurturing environment. A child whether he or she is through adoption or the biological
route without making any distinctions in our mind, will blossom in full potential when love
and nurturing is unconditional. So, for me opting to adopt was not a difficult choice.
-Gayatri Abraham
Founder, Padme
I have always been interested in women's issues and have been involved in various activities alongside my work experience which has been across verticals hospitality, consumer and public relations. In the mid-90s, I was part of a study on Women's Reproductive Healthcare, conducting interviews with commercial sex workers in Chennai, led by a professor from the University of Swansea.
Over the last 12 years, I have been involved with adoption as a cause, counselling prospective adoptive parents as well as adoptive parents on dealing with adoption and adoptees. Setting up Padme as a site that will function as a go-to resource for adoptive parents, adoptees and society at large to initiate and change the tone of conversation on the topic of adoption in India is the crystallization of a dream that I have been carrying around for more than a decade.
Disclaimer: The views and opinions expressed in this article are those of the author and do not necessarily reflect the views of The Wonder Women World. If you wish to share your views you can reach us at thewonderwomenworld@gmail.com or reach out here CONTACT US