BANANI DAS DHAR, AUTHOR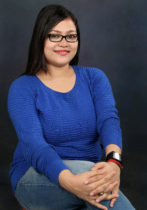 "I may sound weird but I am my own inspiration" says, Banani Das Dhar, Founder of the Lifestyle and Cultural Magazine "BananiVista" and author of "Emotions and Elation", an autobiographic book that captures the transformation of a woman to a mother. More about the book later, let's talk about Banani first.
Banani was born in Assam, which many say is, "a land of blue hills, green valleys and a red river" It's no wonder that she has a fascination for India and its rich culture, diverse people and its scenic beauty. Banani quit her corporate job to establish her dream venture, BananiVista which is a lifestyle and culture online magazine that is proudly "Indian in spirit and celebrates the Indian culture that is drenched in festivities for every season". She has set up a team who wholeheartedly believes in her vision and has helped her build the firm to what it is today.
Having recently experienced motherhood, somewhere along the 9 months of pregnancy, Banani decided to journal her experience and her "rollercoaster ride of emotions" that also led to "breaking several myths around pregnancy and societal notions". The book is called Emotions and Elation and is available on Amazon.
On being asked, what made you write on this topic, Banani explained, "I wanted to not only talk about my journey to becoming a mother, but I have consciously addressed aspects that are not usually covered by books of this genre, for example the father's emotions and feelings in this phase and how the bond between partners strengths to a great extent" Excited and gearing up for a launch in Bangalore in July, Banani signs off on a touching note, she says, "This book is a birthday gift to my son, Lakshya who is turning one this September."
Buy your copy of the book Emotions and Elation here