INTERNATIONAL YOGA DAY!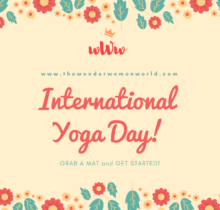 On this International Yoga Day, I am fully charged to do my complete set of Yoga asanas in the club house of my residential complex along with other yoga enthusiasts. But I must admit –I haven't always been this excited about doing Yoga. This past year or so however, has been different.
My first ever serious orientation towards Yoga was immediately after I got married. My mother in law was an ardent yoga instructor and had been teaching yoga for over a decade. She was extremely diligent at doing her own yoga sessions daily and then heading out to teach a group of middle aged to senior citizens – both men and women. I was a newlywed then and in order to earn some brownie points I decided to tag along with her to one of the sessions. It was great to see her leading the pack with élan and I had great fun analyzing everyone and their Yoga moves. There was my favorite Aunty brigade desperately hiding their bellies under the over sized kurtas and they did have some stiff competition from the Uncle gang who were proud to flaunt their beer bellies. And while they all did make an earnest attempt to do their asanas, they were equally earnest about the chai-paani (tea and dry snacks) that would be served just after the session concluded. And that's when they resumed their original avatars and it was about 'whose grass is greener' rather than 'whose waist is slimmer'.
Everything that they had practiced by way of meditation and mindfulness would vanish in a jiffy and the conversations were actively steering towards stock market updates and real estate valuations for the men, while for the women it was the usual excitement over kitty parties, shopping sprees and mother-in-law or daughter-in-law bashing. Then the attention would shift towards me and with a sheepish wink they would ask the obnoxious question, 'When is the good news'? It took me only two visits to those sessions to take a firm stand to give them some real good news – I decided never to attend these yoga classes again. And somehow my perception of these yoga classes remained intact for a very long period of time.
A few years later, while surfing channels I tumbled upon Aastha channel on TV that was broadcasting a huge plethora of people practicing yoga under the guidance of a highly energetic, flexible and an extremely proficient man, half clad in a saffron robe. He had long hair, tied up in a ponytail (a desi rockstar of sorts) and with the widest smile on his face. With his jet black hair and those sparkling white teeth, he was a sight to remember and everyone seemed to be mesmerized by his vigour and radiance. Baba Ramdev had arrived – he was now ruling the television sets and our mind space and was slowly and steadily inching closer towards capturing the loyalty of millions of people across India. And I too got hooked onto the fun element of Yoga – it was now starting to provide high edutainment value and there was also laughter and fun in the air. But even this had a very short shelf-life in my mind and I was happy watching Baba and his followers do it. I didn't make an attempt to even lift a finger.
But it's not like I haven't been into fitness at all. I have had my fair share of personal trainers slogging it out on me, hitting the gym as part of new year's resolutions, enrolling for Aerobics and Zumba (reclaiming my right to be a dancing goddess) and going for the occasional walking spree. I am all for great health and fitness and belong to a family where everyone adheres to 'Health is Wealth'. My father at 80 years old and my mother at 77 years epitomize what health and fitness is all about, by simply eating right and leading a busy, active life. And so is the case with my older siblings and their spouses. They all are in great shape, do what it takes to meet their exercise routine and being fit is a way of life. While I have always admired them for this, I only wished I loved exercising as much I loved to eat and go on my food trails.
But, in the last four odd years, there has been a significant change in my husband's (who is my food cum soul mate) food habits, his overall lifestyle and he has taken a keen interest in Ayurveda and the organic way of eating healthy. This has helped him in not only losing all that puppy fat but he also has a terrific metabolism rate that is helping him lose the weight and making me lose my mind. And that's when I realized I need to seriously change my mindset and get into action with anything that will keep me motivated and not 'moti-weighted'.
I gracefully accepted that I am not an gym enthusiast and so I need to adopt something that goes with my innate style; that's when my husband suggested we both start doing Yoga together, exclusively as our happy hour. And I am glad I gave in with least reluctance. For the last year or so, both of us have been practicing Yoga together under the able guidance of a very learned and proficient Guru. And while our Guruji is very forthcoming in saying it aloud that I need to work on my thunder thighs, I have learnt to take this with a pinch of salt. Yoga clearly has stolen the thunder from him.
Doing yoga daily along with my beloved husband in our home, with just 'us' and under the keen scrutiny of of our Yoga master is the best morning ritual I have started to enjoy. There is a great element of calmness, harmony and peace that I experience while doing every asana (posture). I can feel my breath and energy soar higher and with unwavering focus as I immerse myself into doing each of the pranayamas (breathing disciplines). Practicing the Surya Namaskar has not only enabled a greater control on my body and mind but it has also helped me shed some kilos off my thunder thighs. There are multiple benefits of doing yoga and I am happy to have imbibed this into my daily life and channelize my energy patterns wholly towards it.
There are still miles and miles to go before I become proficient in yoga and I am highly inspired and intrigued by the Yoga Sutras of Patanjali dating from 200 BC , the first book to systematise this practice. As I gear up to start reading and imbibing this in my daily life, I am happy to have yoga enable me to turn inwards and being called a weekday Yogini. After all, weekends are only for shavasanas!
A very happy International Yoga Day to you all.
-Rachana Gupta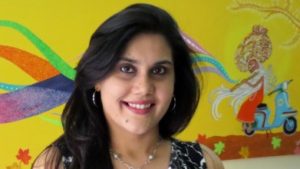 Read more about Rachana and her other articles here
RACHANA GUPTA, HAPPINESS COACH
FRIENDSHIP AND HAPPINESS, by Rachana Gupta
Disclaimer: The views and opinions expressed in this article are those of the author and do not necessarily reflect the views of The Wonder Women World. If you wish to share your views you can reach us at thewonderwomenworld@gmail.com or reach out here CONTACT US