DEAREST BABA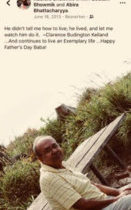 As generation X raised in India I didn't grow up celebrating Father's Day. Not celebrating Father's day didn't mean I didn't celebrate my Father or Baba as I called him…I didn't need a Father's Day to realize how special he was…was…he is free from worldly pleasures and sorrows, he rests in peace now…what remains with me are decades of fond memories.
Baba was the only son and only brother to three sisters, pampered, needless to say but that didn't make him shy away from adventures…yes…that is what it seemed to my little eyes and little brain actually, even to my adult brain those were some of the best adventures of my life. Be it catching fish made with an indigenous fishing net after the rains from a near by pond, or going to hunt for the most fragrant wild lilies, or finding the most perfect branch to decorate as a Christmas tree, or baking the most delicious cake ever and so many more. Baba made life so interesting and fun! Not just for me but my childhood friends too…Baba had a record player…a turntable…which was mostly for leisure time listening but on special days he would play this story about a jungle king, the lion…How me and my friends used to love listening to that story and songs, on occasions he would play with us creating the most joyful games. He was so loved all around the block. My Baba! Baba loved to travel and experience new things. At least once every year we went on a vacation to see some place new, experience new cuisine, explore culture, history and nature. All of those captured in photos clicked by his Minolta camera. And how we looked in those photos? A bit irritated because the perfect shot came after many manual adjustments on his favorite camera which took a while…quite a while! 😀
As a September born Virgo, he was a perfectionist and his execution of ideas were always perfect. Baba always had the most brilliant ideas for my school projects or for anything for that matter. When I was around ten years old I had once enrolled for an art competition and Baba suggested I draw something that compared a happy earth and a sad earth side by side because of the destruction caused by human beings, he guided me through out that painting and somehow that completed picture is still very vivid in my mind…I won the best painting award in the district. Baba had a special comment about everything…a special recipe made by Maa, the plan for an outing, an art and craft project I was working on, a dress I was wearing, the choice of saree that Maa decided to wear for an occasion, a menu planned for special guests…pretty much everything…and it was his special comment that fixed something to make it perfect! Today if I do anything that involves creativity, a new recipe, the planting plan for my kitchen garden, choice of flowers in a basket, a card that I make with my toddler… I wonder, what would Baba say about it?
For the first time I lived away from my parents to attend college in Delhi. That is when I realized how much I was attached to him and all that I always took for granted. Baba had travelled to Delhi to settle me down as a paying guest, Maa says when he went back home she saw him cry for the first time in her married life. A Father-daughter bond…so emotional…reflecting on those little memories brings so much joy and all I can think about is being thankful for such a wonderful father who was so engaged and so present in my life to shape me up as the person I have become.
History repeats, I see memories in the making in my very own home…little things make big impressions on little minds. My toddler's words on a neatly wrapped Father's Day gift "I love Papa because he takes me for long walks"! Gifts…I don't recall giving a gift to Baba until about I was an adult not particularly on the occasion of Father's Day. It was with the money I earned for the first time, while in college in Delhi I used to tutor a kid once a week. I bought him a sweater…not the best quality because I could not afford so much but still something, I think he wore it until it was threadbare. To say I wanted to show my gratitude for all that he did for me would be wrong because no amount of gratitude is enough for everything parents do for us…but I always wanted to take care of Baba the same way he took care of me…so when he came to visit me once in Delhi while I was in college I made an egg curry and fried rice for his train journey back. He raved about my cooking skills back home to Maa…when I left home I didn't even know how to ignite the gas stove! Not everything I have done makes me proud of myself…I went back to my home town for my masters and on one New Year's eve when Maa was travelling for work I decided the best way for me to spend the New Year's eve would be to be with friends rather than be with Baba and so I abandoned him that New Year's eve to let him figure out his own plans for that evening while I enjoyed a bon fire at a friend's house. Those friends are no longer present in my life anymore, their absence makes no difference in my life…Baba's absence makes a big difference in my life!
Baba fell sick very close to retirement age, that sickness made him a handicap for the rest of his life. He was in the ICU for almost four months and hospitalized for more than six months. Due to the nature of his illness I was allowed to spend time with him in the ICU everyday. I witnessed my strongest, fittest, adventurous Baba laying down in bed helpless…I stood helpless just next to him. He had a very long path to recovery, learning to walk with support, learning to eat with a spoon, and learning to be a dependent…my fiercely independent Baba. He did everything with grace and was always a sport. His sense of humor stayed intact. He inspired in spite of his handicap. Baba was a professor, he didn't just inspire me and my sister, he inspired each and every student he taught. He guided many students to obtain their PhDs. Even today students close to him have an interesting story to tell about him just like how I and my sister have so many. He authored two books in his area of technical knowledge post his major illness.
For all that Baba did for me I don't think I did enough for him…his time was up even before I could do more…not that there is a comparison and not that anything would be enough for the wonderful Father he was and the cherished childhood he gave me. Me and my husband fulfilled Baba's love for travel in spite of his handicap…Baba got to see a lot of the United States on a wheelchair…yet there was so much more to see and do. When I see Grandpas playing so lovingly with their grand kids I only can imagine what life would be like if Baba had not fallen so sick to make him a handicap and what if he was still around. My toddler then only two years old did make some sweet memories with her Dadu…but I wish she could experience more as much as I wish Baba could experience more. On his way to the airport after his last visit from our home he cried and hugged me saying, "Will I ever come back here?"…No he never did.
When I told my toddler I was writing something for my Baba on Father's Day, she said please write I love you and tell him I had lots and lots of fun playing with him when he was not in heaven. Then her instruction was to send this to God so that God would give this to him. So here goes…Dearest Baba, thank you for everything and sorry for every time I hurt you. You are my hero and my inspiration for life. I couldn't make you proud while you were around but I do hope one day I will! Until we meet again… I love you!
-Ruchira Bhowmik
Disclaimer: The views and opinions expressed in this article are those of the author and do not necessarily reflect the views of The Wonder Women World.