YOU ARE ONE OF A KIND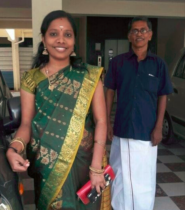 Appa! Happy Father's Day!
Yes, it's not about just one day! But in our hectic life schedules, it's time for a speed breaker, to slow down, sit and think about our dad and his love. Because, he is the only man who make us happy always!
Again I'm highlighting the word ALWAYS in the previous sentence. I'm sure as you read you will feel wonderful in your heart whatever the hurdles are in your life.
Dad, You are the one and only man I got inspired right from the day I was born.
Dad do you remember…
Rushing me to school on your bicycle after the first bell, and me bidding you good bye with an angry face for making me late? How joyful was the feeling to see you near the gate after evening the bell rang!
In those moments I learnt how wonderful it is when someone waits for you without having to search. Times when I wipe off my tears and see my mom with a wicked smile as you intervene and safeguard me from her scoldings. That moment you elevated my expectations that my man will always be besides me in my tough times fully armed to protect me.
For hours you waited and wandered in my school ground while I happily rendered my paintings and drawings in the competitions. In that moment again I stopped only to let it register that my man will have all his faith and belief in his girl's dreams and passions.
There are so many more to recall. But the fact is it's a bit late. Yes Dad! We girls forget to understand you when you are with us. After stepping out from our home when we step into a new world we realize – as I'm doing now.
You have created a benchmark for all men and set standards which the men we meet cannot match up to at times.
Thats why, "YOU ARE ONE OF THE KIND " Dad
Penning down my thoughts about you has been a wonderful feeling!
Really feeling blessed! Dad may God bless you with good health and spirit! Once again Happy Father's Day!
– Abirami Seeralan
Disclaimer: The views and opinions expressed in this article are those of the author and do not necessarily reflect the views of The Wonder Women World.