AN AUTOBIOGRAPHICAL POEM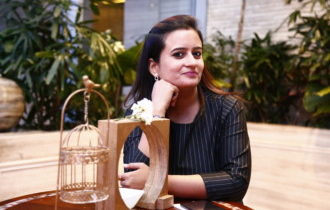 Where the child sleeps at 9.
No, no one sings a rhyme,
The only dialogue the mother would say,
"सो जाओ बेटी वरना पापा आ जायेंगे।"
And eyes shut in fear.
I am from there!
Where there is a friend's birthday invitation,
And you seek permission.
After rehearsing for several hours,
You know, the final say is father's.
If only the luck is in favour!
I am from there.
Where you have chosen the safest corner of the park,
Ready for some adventure in the dark.
Suddenly a torch light turns you blind,
And you wonder how these fathers find.
Mother says, "All for your good dear."
I am from there.
Where your career choice is a matter of discussion,
Fathers demand secure profession.
You wish to explore,
Convince them to the core.
'Papa, I will make you proud, I swear.'
I am from there.
Where you will not even realise,
When father's frowned forehead and fiery eyes,
Became your best guide,
And how always, he was by your side.
The coconut with hard layer,
I am from there.
Where now when you see him,
The wrinkled hands and weak vision.
You feel powerless,
Because from the beginning of this process.
He was the commander, and you the follower.
Yes, I am from there
NEHA V JHA
Neha V Jha is the founder of Event Eyes Communications and curator of events like What if You Conference and Music-Art-Poetry (MAP) Festival. She is a writer, a translator and a regular performer at Mumbai poetry sessions. She has won several poetry open mic competitions held in the city. She mostly writes from her own experiences!
Disclaimer: The views and opinions expressed in this article are those of the author and do not necessarily reflect the views of The Wonder Women World.