FATHER OF MY TWO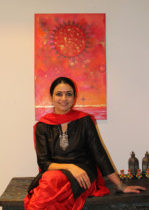 As the new year set in
With a dark, cold, windy
Foggy dawn
Our first one was born!
My eyes welled with joyful tears
Met and matched yours!
We knew this was the beginning
…the beginning of a new adventure
A journey of joy, change
…explorations
Of fun and challenges
sure to last forever!
And so, we began…
You held him in your arms
Tenderly
Nuzzling his head, that was
Sweet smelling
And I fell in love with you
Once again!
From pees on your pants and poops on your palms
And the diaper change
To the first bump, scraped knees
And the toys and games…
To the first spoon of food
Your dances and dramas
And his first boo-boo…
To the first day of school
The first medal
And the many that followed…
You lived it all
And I loved it all!
And then arrived our second one
Oh! How the time just flew
A journey again
unexplored …new!
Blessed felt we
To relive those moments
To savour again
The same firsts!
So now there were
More high fives
More fist bumps
More funny steps
More drama
And more gibberish!
As one laid on your chest
And one by my side
We found our laughter
In theirs…and
the tales you told tirelessly
Oh! I still remember
And smile silently!
The hands of the clock
Did not stop
And neither did you!
Always available
Always approachable
A self-made man
You, taught them to play
In the puddles
When it rained!
Often unsung you go
And unpraised
you taught them to rock
two champions you trained!
Wise and loving
And a super guide
We are a team
And you our pride!
– RITU DUA
ARTIST AND WRITER
Disclaimer: The views and opinions expressed in this article are those of the author and do not necessarily reflect the views of The Wonder Women World.