THE OTHER-WISE PARENT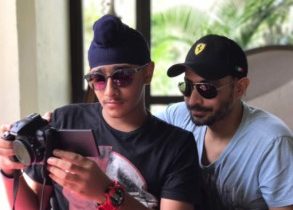 Being a freak and occasional writer, I had so far written a few short poems, tongue twisters and couple of lyrics that made rounds within our friend circle. Since both I and my blogger wife largely have common friends, this 'by default' structuring of having our roles defined with the pen only helped segregate the Wise from the 'Other-Wise.' Pun intended!
Given the unsaid literal divide, it was only natural for me to lap up this opportunity and express myself as the second parent; something that's not seen or written too often! Parenting like almost every other thing around us gets unequally divided amongst equals, at least in societies that still get perplexed when it comes to balancing traditional values and the ever challenging paradigm shifts.
Most of us as children have seen a larger, more generous and demanding but equally sensitive parent in our mothers. Rightfully so! By and large the wisdom of the 'Other-wise' parent only surfaces much later in life, when sons themselves become fathers or daughters get into this mode of 'primary parenting,' if I may call it so. As they say, Dads hold our hands for a little while and hold our hearts forever.
Not to say that there aren't exceptions to this.
In our case our only child who's now well into his teens has seen and experienced parenting that's more by choice than by chance. In retrospect, our memoirs of his early and formative years do reflect the fact that our child in some way was luckier than the two of us, or at least this is what we as parents feel. Our collective presence, involvement and goof ups made us more accessible helping him muster the courage to not only take up arduous challenges but also render the balancing acts early on in life.
As a father, I clearly see myself in my son's enduring attempts, his inclination towards fast paced objects, gadgets and the choice of brands. Whilst still in his pre-teens he went on to cycle a whopping 116 km on Mumbai-Ahmedabad highway nailing it well within the cut off time of 7 hours. Not content with his maiden attempt, he went on to endure the same distance five more times! Such are the flashbacks that well my eyes each time there is this memory that pops up on Facebook or while breezing through our photo repository. And I quote… When a father gives to his child, both laugh; when a child gives to his father both cry.
For fathers I feel the role of equal parenting goes much beyond that of helping cleanse the child, dropping them to the bus stop or attending Parent Teacher meetings. Their understated wisdom places passion and pragmatism ahead of emotions. Their affection, sensitivity and response towards children is akin to those numerous live wires that are insulated in the walls of our homes. These are never visible and yet act as a life support system of the household. These wires offer life lessons that help children navigate varied situations laid on life's continuum!
As I get tempted to quote again…A father is neither an Anchor to hold us back nor a Sail to take us there, but a Guiding light whose love shows us the Way.
And to the 'Wiser' parent, do remember to 'Try us out, when in Doubt!' Repose trust in that other parent who's more often than not been behind the scenes. Not by chance but mostly by choice. Your sheer emotions and zeal to shape up the child is so endearing that most fathers fondly resort to being the second parent. However this is least to say that fathers in their current avatar aren't good at empathising!
Believe me, fathers become eye candies after a few shots. With a heavier voice and sleepy eyes they manage to walk their friends through the daily mundane that surrounds the mothers and children, the school and examination ordeals, not to forget the keenness to see their child make a mark for themselves in the ever uncertain future. We fathers trust you mothers more than we trust ourselves. And it's a no brainer that if this trust is reciprocated, parenting shall altogether change for good!
I am also reminded of such situations wherein mothers once in a while get into this blackmailing mode with the child trying to negotiate their way! 'You better do it, Otherwise!'…
Well, this 'Other-wise' if broken up in two words offers the much needed collateral parental support than what such discourses possibly end up achieving…otherwise!
Introduction to Manmeet Singh Khurana: 

A Sagittarius by birth, I have always fancied the idea of living on the edge. Smitten by the 'Need for Speed,' my thoughts and actions have always had me pulsating. Well into my mid life, am far from being satiated. The urge to push my thoughts and seldom screech the pen while exploring new dimensions has been so overwhelming.

My formative years revolved around relentlessly pursuing outdoor activities. Kite flying, racing wheels, getting stitched only to be back on the saddle had the better of me. Till the MBA bug and newly found love for studies altered my itch for a stitch. For more than two decades now its the salary slip that provides me the much needed dope to carry on!
Disclaimer: The views and opinions expressed in this article are those of the author and do not necessarily reflect the views of The Wonder Women World