MY DAD, MY SUPERHERO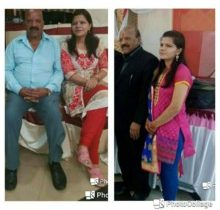 Urvashi Vats loves to write and wanted to share a short conversation between a father and daughter. It reflects Urvashi's relationship with her father who gave her the freedom to be herself and make her choices in life. This little piece is a tribute to him…
Pankhudi was the most brilliant student of her class and used to participate in all the co-curricular activities at school. She breezed through her 12th grade with 96% and stood first. It was time for her to decide her next steps.
One day her father asked her, "Pankhudi, what you want to do now? Do you want to continue your studies and what would you like to study?"
Pankhudi replied without hesitation, " Yes, I would like to study and I want to choose science, is that OK?"
Her father replied, "My princess, I will not force you or influence your decision. It's your career and your life, you have to make your own choices and I will always stand by you"
Pankhudi was so happy, she hugged him, and "You are the best dad in the world"!
Her father was overwhelmed with emotion, his eyes were moist with tears and he thought to himself, "Betiyon ke liye papa hamesha unke hero hote hain, jinpar unhe pura vishwas hota hai ki woh unke har faisle mein unka hamesha saath denge" (Daughters look up to their dads as their superheroes. They trust their fathers to be there for them no matter what)
-Urvashi Vats
The author, Urvashi Vats is from Dehradun, Uttarakhand. She was an Assistant Professor for Personality Development. Urvashi loves to write about any topic and maintains a diary. Although her focus is in the education sector, her true passion lies in writing about "the unsaid and unrealized" Read her other articles here
Disclaimer: The views and opinions expressed in this article are those of the author and do not necessarily reflect the views of The Wonder Women World