MY DAD IS MY HERO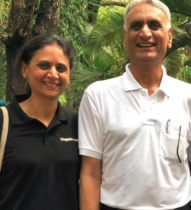 I am an only child and I grew up listening to the many stories my dad would share, especially of his childhood. He was from a large family (three brothers and five sisters). Being the youngest of the lot – he always got that extra mango slice! Unfortunately, at the tender age of four he lost his father. And even though he was the youngest of all siblings, he took a lot of responsibility along with his elder brother (14 years older to him).
I have always admired the strong family values that my father has demonstrated. He is a very righteous man who does not hesitate to call a spade a spade. A strict disciplinarian, I learned a lot from him. Everything had to be perfect and in place and it is the same now for me.
I have always looked up to my father and wanted to be like him. Though I was the only child – I was never pampered. I had to earn it. My strong value system and beliefs are passed on from my parents and I am thankful to them for it.
My dad is a family person and at the same time a workaholic. At 70, he still wants to work. Currently, he is on a forced retirement, but extremely active. He has seen a lot of ups and downs in his life, but not once did think about giving up. At a stage where he almost lost everything, he worked against all odds to establish himself again. This never give up attitude is my greatest learning.
My father has moulded me to face any situation with a smile. Now I see this young-old man doting on my girls and it warms my heart. When I tell them that their nana was very strict, they don't believe me!
His doors are always open to all and he is there for anybody who needs him. I like to think of him as Robin Hood, who is ever-ready to help others, financially and physically. There is one thing that comes to mind when I look at my father….I feel they don't make men like him anymore.
– Dr. Bhavi Mody
Founder of Vrudhi Holistic Health Care Services
Disclaimer: The views and opinions expressed in this article are those of the author and do not necessarily reflect the views of The Wonder Women World.