MY ANGEL InDEED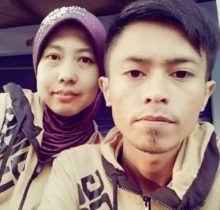 Having been spoilt as a child and as a wife, having a maid at home is a given.  BUT having a maid who is hardworking and honest is truly a blessing.
Fitriah Bt Kasmad Suwada (My Angel InDeed) has been with me for a year now, and every day am grateful to my Almighty for being so blessed. Fitriah, is from Indonesia and her profile was brought to my attention when she was ousted within the week of her joining a family when she first arrived.
It was her first time in a foreign country, she had left behind both her children, her beloved husband and her old father to make a decent living for all of them.  She had invested money for getting a job and was given just two weeks to find a new home, before being repatriated. She joined me totally worried about a new place and a hazy future with a "transfer maid" title that was not a feather in her cap.
She is special because, she respects the "list of to-dos" that I had given her, the reason I respect her is because of the way she carries herself, takes care of my home, keeps my things safe and always has a smile on her face.  As importantly, I cannot ignore the sacrifices she makes and her strength to be the backbone of her family and even though she misses her family she gives the best she can of herself to the responsibility of a job.
This opportunity to write about her made me ask her why she loves me.  And this is her answer:  Quote: "You very good for me.. I working, I need money for my family.  You help me for my family. Every thing I need you help me." ….Unquote.
What I KNOW is that, Fitriah, is good for me and my family, she cares about me and mine and my home moves smoothly with or without me because of her commitment to her job.
She is: My Angel InDeed.
The author of this post, Rubina Ali Khan is one of our wonder women. To know more about her click here.
Disclaimer: The views and opinions expressed in this article are those of the author and do not necessarily reflect the views of The Wonder Women World.