A LITTLE TRIBUTE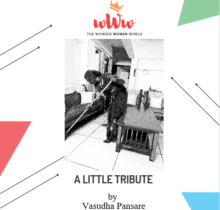 Recently we shifted to our new apartment and I was very worried about getting a good and honest maid to help me with the house work. But I have been pretty fortunate in this matter and when my neighbour recommended her maid who was willing to hand wash our clothes (I don't like to use the washing machine for all the clothes) for a higher salary, I immediately agreed though I was a little doubtful about her efficiency since she was quite elderly – around fifty years old.
But I was amazed by the quality of her work. She was extremely meticulous, neat and clean. She refused a cup of coffee and refreshments and wasted no time in gossip. Her dedication and sincerity commanded my admiration and appreciation. Instead of food, I started giving her fruits and utility items and sometimes packed some snacks for her grandchildren. (She has five daughters- all married- and several grandchildren who keep visiting her).
A good maid is a precious treasure and very important person in our life. A good maid who works efficiently, sincerely and honestly is a great blessing. Not enough appreciation is shown towards a large support system which works for us and enables us to run the house smoothly. I feel very angry when I see employers behaving rudely and condescendingly and not acknowledging the hard labours of these good workers. A kind word and occasional gift, such small things can make them happy and work for you cheerfully. I think we should never pay them lesser than what they deserve.
Today I want to pay a tribute to all the good maids who have worked for me. Without them my career would not have been possible. Without them my life would not have been so comfortable. From the bottom of my heart I thank god for all the good, honest, hardworking ladies who have worked for me.
– Vasudha Pansare
Disclaimer: The views and opinions expressed in this article are those of the author and do not necessarily reflect the views of The Wonder Women World.