HONG KONG DIARIES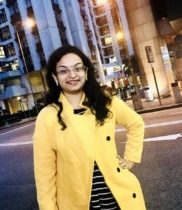 I am Gayathri Gokul and have been in Hong Kong for nine years now. My journey in Hong Kong started with my husband and my little one who was 5 months old. Everything seemed new, being away from family I didn't know what to do but I was blessed with a supportive husband. I pursued my Masters in Dentistry from the University of Hong Kong and completed it in 2012. I have been doing part time jobs in Hong Kong ever since.
I have learnt classical music  and I have a deep passion towards music and shlokas which started at the age of four. I also learned Bharatanatyam at age 7 years.  While doing my best in my role of a mother, I slowly started taking up keyboard classes for children in Hong Kong in 2014.  Over the last five years I have learned a lot being with my students and feel so proud when they confidently give their performances.
I chose the keyboard because Indian music is full of beats and this instrument does complete justice to it. You can recreate, innovate and experiment. I still recall when I was 20 years old, I visited my family in Thanjavur and saw this 78 year old man play the popular Tamil song "Vaseegara". It moved me so much that I decided to learn to play the keyboard.
I teach kids as young as four years old and when they first see the keyboard, they get so excited to hear me play the rhymes taught at school. Sometimes they want to just bang the keys in a random manner or listen to pre-recorded music in the keyboard. Few of them are reluctant to learn at first and then I notice they start to bring their own little keyboards (toy) to class. So I make them play with it first and gently introduce them to the real one.
With kids we have to keep it fun, interesting and energetic so I organize games every few months. I also make it a point to test their learning with an exam or performance and follow it up with a parent teacher meeting.
Children are so innocent and curious and I get a lot of questions, "Aunty if I can play my toy keyboard so well, why should I learn on the big one?" and when I tell them the importance of theory, they say, "Why do we need to write so much, why can't we play it just like that?"  They make it so much fun and interesting and I enjoy every minute of my role. I still chuckle to myself when I recall the best question of all – I asked a four year old what comes after C and he promptly recites the full alphabet until Z and turns to me and said, "Aunty, you must learn the A,B,C…it looks like you have forgotten it all!"
Disclaimer: The views and opinions expressed in this article are those of the author and do not necessarily reflect the views of The Wonder Women World.