SUDHA MENON, AUTHOR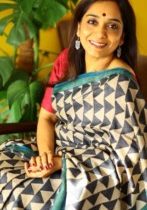 When and how did your love for books start?
I grew up in a small Mumbai suburb, Dombivili, in a house by the railway tracks. My father was a railwayman, unwaveringly honest and totally committed to the cause of improving the lot of railway workers, many of whom worked in the unorganised sector. Life was simple and frugal back then because he gave away a better part of his earnings to the poor and the needy. But what he was unable to give us in material things, he gave us in the form of an endless supply of books. We only got 2 pairs of clothes each for our birthday and Diwali but we got books every month, bought from old bookstores and roadside booksellers in Mumbai who knew he cherished books and they kept away their best books for him. Sundays and holidays for us meant sitting on the old, beaten sofa, reading American or Russian classics or his collection of P.G.Wodehouse or Sherlock Holmes. I think at 10 years of age I had already read books like Harper Lee's To Kill a Mockingbird, A J. Cronin's The Citadel, Emily Bronte's Wuthering Heights, Boris Pasternak's Dr. Zhivago, Emile Zola's The Dram Shop and Tolstoy's Anna Karenina.
Was it was always your dream to become a writer?
Though I never admitted it, even to myself, I dreamt of someday seeing my name on the cover of a book but it was too audacious a dream for a girl who lived in the suburbia with very little privilege.
My first step towards a career in writing was when I decided to study to be a journalist. After 23 years of a passionate career in journalism, I finally decided it was time to dive into the deep and gave up my job in 2009. My first book, Leading Ladies: Women Who Inspire India, debuted in 2010 and it was possibly the most joyous day in my life, second only to the birth of my only daughter. There is something about growing up and being able to live your dream. When I am invited to talk at corporate houses and educational institutions, I always say that giving up on a dream should never be an option for anyone. It is only when you dare to dream that you get to be the person you are meant to be.
When I look back sometimes, I can't believe I have come such a long way. I have written 4 very, very popular books with one of the world's biggest publishing houses, have ghost-written 2 autobiographies and am invited to deliver inspirational and motivational talks to young people setting out on their own journeys. I have turned entrepreneur with my writing workshop series, Get Writing and Writing With Women and I have given wings to the writing aspirations of so many hundreds of people. When I am able to help a senior citizen write about his life in one of my workshops and when an 8-year-old writes alongside that senior citizen with the same self assurance, I think I have made a difference in the lives of people. That means a lot to me.
I am currently writing my fifth non-fiction book and even though I can't reveal it now, this is a giant leap of faith for me because I am writing in a genre I have no familiarity with. But I am always willing to take a risk and that has always worked for me.
I also enjoy taking my writing workshops to large corporate houses where I have middle and senior management writing with me. For them it is like having a picnic at work and also learning to de-stress at the workplace. And I learn a great deal about leadership, when I interact with them.
From the topic of your books to your talks – a significant part is centred about women…you clearly have a special focus for the rest of our tribe…
I love my role as friend and guide when I talk to young women at large corporate campuses where I am invited to talk about diversity. They have so many doubts, fears and uncertainties that plague them. And I love giving examples of women who have made it to their desired goals despite the challenges, hardships and the dead-weight of cynics and naysayers.
How has your journey been so far?
At each stage in my life my biggest struggle has been the inner struggle with self doubt. By nature I am restless and need to be constantly doing something new and exciting. This streak in me is in constant conflict with the part of me that says that maybe I should not bite off more than I can chew. The truth, of course, is that every time I have dared to embark on a new thing, I have worked hard till I have made that dream a reality. We need to just trust our instinct more and hang on, no matter how difficult the road ahead seems. But if, despite your best attempts, things don't seem to work out as you pleased, do see the wisdom in cutting your losses and walking away. There is no shame in failure. If anything, failure teaches you life lessons you will never forget. I firmly believe that when one door closes on you, many other doors of opportunities open up.
Can you share any lessons learned or examples of risk that have paid off?
A few years ago, when I was still a journalist, something happened at my workplace that collided head on with my idea of what is just, fair and honest. I walked away from that job in an instant, without even thinking of the consequences –loss of my salary and my identity- and even though it caused me a month of great stress, I'm glad I followed my heart. My first book was launched within a year of my quitting my job and in the years since then I have written several books and done things I would never have realised I am capable of. It is really all about following what your instincts tell you about a situation.
When I started my Get Writing workshop, it was a really big risk. Nothing like that existed in the market for me to learn from, I had no experience with teaching and I had nothing other than my wits and my great excitement at starting this new project that I knew was the need of the hour. I am glad I started this off because the workshops have been a complete success and I have held it in multiple cities and taken it to corporate houses and educational institutions.
A couple of years ago I started two projects that have since become very close to my heart. My Writing With Women (WWW) workshop series is a source of endless joy to me because this is where I get women from diverse backgrounds together to talk about their experiences and write about them.
When women write down their stories, it is not just about them. Through their stories we get a peek at social milieu of the times- family structures, gender equations….Unfortunately, far few women think of documenting their experiences. I now take this workshop to corporate houses and educational campuses where women find their voice, their identity and their confidence by standing up and taking ownership of their narrative while writing with me.
Telling Our Stories is a voluntary project I have taken up to document the lives of its senior citizens, many of who have lived through the independence struggle and seen our country develop over the decades. I believe that if we don't document the lives and times of our seniors, we stand to lose out on a very precious slice of our history.
Life is full of ups and down, challenges and small victories, joys and setbacks and I am gradually learning to deal with each of this with equanimity. Eight years after its launch, Leading Ladies continues to grab the attention and the affection of everyone who reads it. When I wrote Legacy, a book of letters from parents to their daughters, I never imagined it would go on to create such an impression with the readers. At the Filmfare award night in 2016, Deepika Padukone read out a letter from her father, Prakash Padukone, to her. That letter was from my book Legacy and based on my interview with him; the letter left everyone in the audience, including a lot of industry heavy weights, in tears.
Two other letters from the book – Narayana Murthy's to his daughter Akshata and Chanda Kochchar's to her daughter Arti, went viral after that. At least two of the letters from Legacy are now part of text books in school curriculum. The book is a go-to book for a lot of parents trying to convey important life lessons to their daughters and I am blessed to have written it.
In many ways Gifted, a book of inspirational stories from the lives of people with disabilities, was all about breaking barriers. The book was written in collaboration with V.R. Ferose, former MD of SAP Labs in India and writing it was transformational for me. Never again will I think of the differently-abled as people who can't do much in life. I learnt from the people in Gifted that we can all do all that we want, with courage, resilience, persistence, a never-say-die attitude and a belief in our own abilities. Gifted has been translated now into 3 regional languages and 3 more now in progress and we were delighted when the Kannada language translation of the book recently won a Karnataka Sahitya Academy award. Through Gifted I found a dear friend, Ferose, who has taught me much about life.
What is life beyond books like?
While most people would think that my achievements are the books I write and the other ventures I have started, the truth is that I consider my greatest achievement to be raising a 24-year-old daughter who is compassionate, kind, brave and happy with her world. She is a pastry chef who followed her own dream and works hard every day to fulfil herself.
Writing consumes so much of my time that I find these days that I don't have time to devote to my first love: reading. I love listening to old Hindi film songs to relax and wander about in the old parts of Pune which has so much of history attached to it. I love travelling but these days I find that my travel is largely limited to work. Over the last year I have consciously tried to do new things and learn new skills such as pottery, painting, a theatre workshop. Someday, I hope to learn a bit about gardening so that I can grow a kitchen garden and enjoy fresh herbs and greens from my own little balcony garden.
I am often asked what I would be, if I was not a writer. I would probably be living in a tiny cottage in a hill town and learning pottery. I have this dream of someday retiring to the hills and living life at a slower pace. It is not likely to happen since any pressure I feel is usually self-created. I am born restless.
I am intrigued by the lives of Radio Jockeys and often wonder how they think on their feet and come up with stories that connect instantly with the listeners, day after day after day. If there was a school for RJs, I think I would go join.
Who inspires you, Sudha?
My mother is my biggest inspiration. She was 16 when she married the handsome railway trade union leader who she only saw once before she married him. She spent 55 years with him and was his companion till the day he breathed his last, a couple of years ago. I am not sure I can give up my identity for love but she did it, setting aside her life and her aspirations in order to raise 4 kids, leaving him free to follow his calling of getting justice and fair play for the poor, exploited working class. My father was the one who showed us that it is possible to give, even though we ourselves had so little to live on. He remains our guiding light even though he passed away a couple of years ago.
Any regrets that is not too personal to share?
My biggest regret in life is that I was not able to spend as much time as I should have with my father. Somewhere in between the demands of my career, home, motherhood and everything that comes along with it, I allowed myself to grow distant from the man who gave me wings to fly. Birthdays and a few fleeting visits became my only time with him and when I finally got time for him, it was to sit by his bedside for 5 heartbreaking weeks when he fought a futile battle with illness. I wish I could turn the clock back and somehow become the little girl who followed her father around everywhere. He was her hero and she his smartest, spunkiest daughter. I hope we meet again in some other world so that I can make up for all the years that I lost touch with him.
You are living your dream, but what more do you want to do?
I am not sure how things will pan out in the future for me but in an ideal world I would love to roam around unfettered, writing the books I dream of writing, without having to worry about paying the bills and such other mortal concerns. I worry I am growing old too fast and will have to slow down my dreams a bit.
What words of wisdom do you want to share for all the aspiring writers – young and old?
To those who want to follow a career in writing, I have this to say: Get into it only if you are prepared to spend hours slogging at your work desk or staring at a blank laptop screen. Do it only if you are prepared for long hours of solitude. Writing is a solitary preoccupation and, often, you are the one sitting at home praying for inspiration when the rest of your friends or family are out having a great time, shopping, eating or hanging out together.
But I can tell you this too: there is no greater joy than having spent the solitary hours and to end the days with thousands of words that seem to come together just perfectly. The sense of accomplishment when you have finally written what has been locked inside you is incomparable.
If you want to write, then read a lot and listen closely to the stories of other people. Become a lifelong student and be prepared to learn from everything around you- birds, animals, trees, everything.
Writing is not for those seeking instant gratification. It takes years sometimes to get a good book written and even then, it might not find a publisher. If you are committed to writing you will continue writing, without worrying in advance about getting published.
And finally, given our love for the same topic I must ask – what is your message for all the women reading this?
To the women reading this story I have this to say: Don't let anybody put you down or tell you that you are not good enough. Don't let anybody snuff out the passion in you or stop you from getting to your dream. Don't be timid and self-effacing- these two qualities keep you from following your dream. And finally, once you have identified your calling and committed yourself to it, have confidence in it and follow it to fruition. It is a long, often difficult trek to get to be where you dream of being, but it is totally worth it.
I think platforms such as The Wonder Woman World are important for us because women don't really get the opportunity to speak their minds, verbalize their experiences and expectations and build communities around them. We need to look at the stories of women around us and take inspiration and motivation from them to go reach for our own dream.
Sudha Menon is an author, a columnist and a writing coach. She is the author of four non-fiction books, Leading Ladies: Women Who Inspire India, Legacy: Letters to their daughters from eminent Indian men and women and Gifted: inspirational stories of people with disabilities. She is also a columnist, a writing coach and a speaker on Diversity, Inclusion and Women's Leadership.
https://en.wikipedia.org/wiki/Sudha_Menon
Twitter @sudhamenon2006
Insta sudhamenon2006