TRIVENI PATIL, BIKER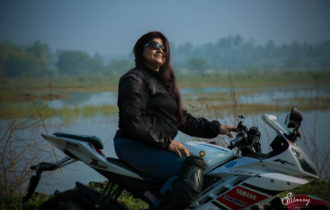 "I am my own inspiration. And I am very strong both, mentally and physically" Meet the powerhouse behind this candid statement Triveni Patil – a home maker, an entrepreneur and as the photo suggests – a biker!
Triveni comes from a conservative and orthodox family based in a small village in Andhra Pradesh. "Bikes were for boys" she was always told so although she was drawn to it, she hesitated to take the first step.
Then came a very low point in her life during which she fought depression and nothing seemed to help. That is when she took her first bike ride it lifted her spirits…she had finally found what she was looking for. From that day on, Triveni made biking a regular part of her life and inspires many others to follow her trail.
Even strong women have their off days and when Triveni feels mentally troubled, she meditates and takes her bike to explore new destinations on her beloved bike. She takes life as it comes and looks at every lesson as a stepping stone to becoming stronger. She believes one must never surrender too much to any one and to always "Listen to your heart, take a deep breath and stay focused on your dreams"