DIVYA ARUN, DANCER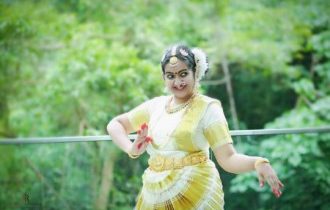 "To define myself is a tricky one as I believe that I am still a work in progress." Meet Divya Arun who loves everything about her life. With a double post-graduation (Nutrition and MBA), Divya plays a dual role professionally (HR and Wellness industry) and also follows her passion as an Indian classical dancer, educator and choreographer.
Currently based in Hong Kong with her husband and son (who she considers as her biggest strength), Divya has given wings to her dreams through her initiative called Mudra Dance Academy (www.mudra.life)
Born in Kerala, South India, Divya grew up seeing and experiencing different dance forms. She remembers breaking into a dance every time she heard different music compositions and great music during her childhood days. Her family noticed her interest and encouraged her to pursue training in Bharatanatyam and Mohiniyattam under a renowned Guru at the age of five. Mohiniyattam, is the traditional dance form of Kerala and is her absolute favorite. Divya feels that Mohiniyattam is getting popular these days due to its unique and graceful style that highlights the beauty of the performer as well as the performance. It helps your body slow down a bit and "enjoy the present moment happily through learning and performing". Apart from this, Divya loves to travel with family, write articles on Dance and Wellness and also meet new people.
Becoming a professional dancer has to be a well-thought out decision, says Divya. The support of your family is crucial. It takes dedicated time and effort to practise. As an individual, we need to have patience, self-motivation and a 'never-let-go attitude' to move on. Training students also needs some focused time and attention. This profession cannot be compared to a 9 to 5 office job in any form as being able to adapt and manage time is key in planning a successful career in Arts.
Divya sees many aspirants who loves Indian classical dances these days and feels it is a positive sign for sure, but according to her, there are definitely challenges and obstacles that might have to be faced just like in any other profession. Her suggestion would be to "Be prepared to greet it with a smile and remember that there are no shortcuts whatsoever in this profession. Be it any classical dance form, imparting the right training combined with regular practice sessions is what makes the dance form beautiful when presented. Let your students love the dance form that they learn, practise well before they start thinking of giving performances."