SHRUTI UPADHYE, DANCER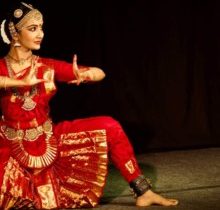 Most of my childhood memories are related to dance. Rehearsing, travelling, the whole process of dressing up, responses from the audiences, the actual performance, the goof ups. Dance was an integral part of my life. Going to dance class directly from school was routine. I started learning Bharatanatyam around the age of five, my parents tell me that I danced around quite a bit at home and they figured that this was something I would enjoy.
Because of the nature of my father's profession we kept moving from one city to another so quite naturally teachers kept changing until I joined Smt. Padmini Ramachandran at the age of nine. She was the magician who was key in moulding me into what I am today. Since then there has been no looking back in terms of performing.  Academics would go on one side but dancing never stopped. I had a tiny little break during graduation just because I couldn't find time but I was actively involved in a lot of dancing at college. Christ College is where I discovered new styles of dancing and getting to try these new forms was fascinating.
I did my graduation in mass communication and joined a private firm, trying to do what most dancers try at some point. Find a balance and do both. Very soon I realised like most of them that it is very difficult to do a 9-5 job and have an active career in dance at the same time. Around this time a lot of things happened in life, marriage to the renowned dancer Parshwanath,  my first opportunity to work in a production outside my dance class, a tour abroad with the production "nayani" by Rukmini Vijaykumar. More than anything, my association with Parshwanath made me realise that this is what I wanted to do. His energy and passion for the art form was infectious. I started helping him with productions and started doing duets with him. Being married to a dancer makes your life revolve even more around dance. I danced through most of my pregnancy too. Attending rehearsals and shows were part of my itinerary. I remember going back to class around 4 months post delivery and not being able to do routine movements and wondering how I would get back but I am blessed to have an amazing support system. It helped that the husband was a task master who kept pushing me to get back and eventually I did.
It is not easy being a dancer mom. It's not a 9-5 routine which the child gets accustomed to. There are days when there is a 6 AM rehearsal where I am gone before he wakes up while there are days when the shows get over really late and I come home to him fast asleep.  There is a lot of travel involved. Even when you find quality time to spend with the little one you wish you could have done that a little bit more. But things have not been difficult for me because of the amazing people around me. A dancer husband, so no complaints about household chores because he understands the industry, the most wonderful parents who take care of my little one better than I ever could,  they make sure that there routine revolves around my shows. I cannot describe the support I have from them, my in-laws rather see me practice 24/7 than see me in the kitchen! My mother in law is herself a super woman who started learning Bharatanatyam in her 50s and now is a performer herself so I lucked out in a lot of ways. My biggest supporter has to be my 5 year old. There have been times that I have put a chair for him at the side wings and he has watched the entire show, biscuit packet in hand. Most places that I can afford to, I take him along, he loves travelling and loves watching papa and mama dance. Mind you he has strong opinions too, a very difficult critic to please!
For all those who aspire to take up dance professionally, there are pros and cons but then that is the case with every profession. To wake up everyday and do what u truly love doing is the most beautiful feeling. No Monday blues, just doing  what you love, everyday.
Shruti Upadhye is a Bharatanatyam performer and teacher who trained under late guru Smt. Padmini Ramachandran and is training under guru Smt. Bragha Bessel. She is a part of Punyah Dance Company and runs an institution called Upadhye school of dance with her husband Parshwanath Upadhye. She has worked with reputed companies and has also travelled extensively in India and abroad spreading this beautiful art form.
Disclaimer: The views and opinions expressed in this article are those of the author and do not necessarily reflect the views of The Wonder Women World.