SANGEETA IYER, DANCER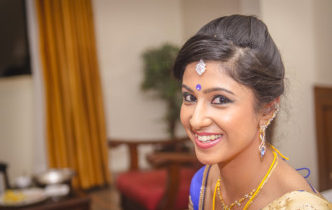 "Bangalorean at heart with a Tamilian soul", that is how 29 year old Sangeeta Iyer likes to describe herself. A multi-faceted wonder woman, Sangeeta is a homemaker, pet parent, performing artiste, dancer, choreographer, teacher and a Bharatanatyam and Bharatanrtyam exponent.
Sangeeta, after close to three years at an MNC, discovered she wasn't built to deal with corporate hypocrisy. It was a period in life when she had a lot of money, but had no time to do anything with it. In her words, "I was fat, unhappy and perennially stressed."
Sangeeta took to classical dance at a very early age and had her first stage show as a 5 year old. She continued learning under different teachers and admits that she has been through a lot of ups and downs owing to lack of clarity and confusion within herself. While in college and when she was independent enough to ride her own bike, she pursued her training under her first guru Dr. Shobha Shashikumar and was introduced to Bharatanrtyam- a dance pedagogy developed by the research and reconstruction works of Padmasree Dr. Padma Subrahmanyam. Sangeeta did her Arangetram in the Bharatanrtyam shaili at the age of 25.
Still juggling between classical and contemporary dance forms, Sangeeta joined Nritarutya an Indian Contemporary Dance company and toured with them as a Youth Wing dancer. Their productions were massive in scale, with 40-50 dancers in each show. She says, "These tours exposed me to varied platforms, people, dancers form different styles, and taught me nuances of how to go about group productions. After two years of working with them, they wanted me to come on board full time. I decided I didn't want to". This was when she decided that she wanted to create an identity of her own (even if it was small), and not merely be known as "one of the dancers in a 50 member dance company".  She also began to realize that most of what we see today as "contemporary" are movement forms that are already codified in our sastras. People think that cartwheels, splits, back flips and hand stands are an influence of contemporary dance – but these are all movements in the Natyasastra. Today, Sangeeta has completed her course in Natyasastra and the 108 karanas under Dr. Shobha, and will soon begin assisting her as faculty. She has recently completed her MFA in Bharatanatyam from SASTRA University, under Dr. Padma Subrahmanyam's directorship, in January 2018.
Even as Sangeeta powered through the pertinent questions and life-altering career decisions, she had to convince her father who was worried about her quitting her corporate job for dance. Moving away from a well-paying corporate job to an almost no-paying life of dance was a tough and confusing call.  And Sangeeta has a few words of advice for those seeking to pursue this path – have a financial plan, study and research the techniques, practice, welcome feedback and most importantly dance for yourself! And if you ever get sucked into the complexities of comparison and competition, she says, "Tell yourself consciously, that the only person you need to compete with is yourself. Do what you're doing because of how it makes you 'feel' inside, not because of how it makes you 'look' to others."