SWARNALATHA IYER, SESHAN'S ACADEMY INFINITY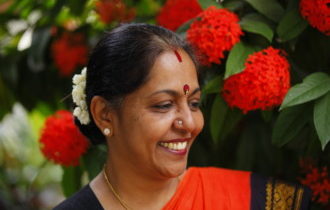 A trained Bharatanatyam dancer, Carnatic vocalist singer, movie buff, voracious reader (with a weakness for murder mysteries) – meet 58 year old Swarnalatha Iyer, MD & CEO, Seshan's Academy Infinity, Bangalore which is established with a view of contributing to society through empowering individuals, and enabling them to develop their skills. They develop specific skills in people to enable them to manifest their full potential, achieve their goals and meet their objectives.
Swarnalatha had a bumpy start in her professional life. She recalls the time when she was thrown out of her job (very early in her career) based on some wrong impressions. Initially, she felt angry and frustrated, but, later she channelled her energy into upskilling herself. She remained positive and harnessed the power of visualization and it paid off. Two years later, she was recalled by the same institution with a better pay and position. She rose to a very high role and achieved a lot!
A very positive person by nature, Swarnalatha does not buckle under pressure. Instead she prays, perseveres and visualizes. That is something she continued to teach the thousands of students she has had the chance to positively influence over the years.
As a woman, she feels one must NEVER look for any sops or perks while working and says, "We are as good as anybody and we need to show this in our attitude as well as work. Never allow gender to play any role in whatever you do. This means that we need to learn and do things much beyond expectations."
In her experience as a coach of life skills and self-empowerment, Swarnalatha has found that many women have the habit of using phrases like "men don't understand", or "you don't know the difficulties that a woman faces" but she suggests that each gender has its own set of problems, but we need to learn to deal with them and not groan about it.
With 25 years of teaching experience, this wonder woman has an infectious zest for life. She says that sincerity and commitment in everything that we undertake is the key to success and that "True empowerment is when each woman recognises her inner potential and works towards realising it fully."