KHUSHNUMA DARUWALA, AUTHOR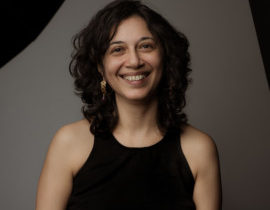 "A unique point of view or an idea; an untold story inspires me"

says Khushnuma Daruwala, author of 50 Cups of Coffee. She does not mind being referred to as an "accidental author" and admits that her tryst with writing started as a whim. 
Being a coffee lover, I took to the book instantly and couldn't help chuckling at the tagline (The Woes and Throes of Finding Mr. Right). I was eager to get my hands on a copy! Khushnuma credits the unique topic of her debut book to a friend who shared her 50 coffee date stories after signing up on a dating website. Shocked, amused and excited, she offered to write about them. The timing was perfect too as she had taken a sabbatical from her day job in advertising.
Finishing the book took a while (given that Khushnuma went back to her corporate life soon after), but the wait for a positive response from a publisher seemed endless. Rejection letters did not deter her, in fact she shared a practical approach to the whole experience, "A rejection letter isn't the end of the world. Try elsewhere. Try again at the same publishing house a little later. Who knows, the second time (or even third time, like in my case) it could end up on someone's desk whose sensibility matches yours."
Writers block is another challenge she faced during the process, but what helped Khushnuma was to create a writing ritual and to distract herself by reading the work of her favourite authors "until the spark was back."
With a successful release and great reviews from those who've read it, Khushnuma is happy with how well her book was received. As for her advice to those who are where she was five years back…Khushnuma nicely sums it up saying, "Follow your passion, listen to feedback, but stay true to your vision and style. Stock up on your patience. It can take time, so don't give up!"