ANJALI SINGH, AZILAA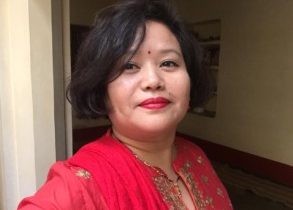 Meet 37 year old Anjali Singh, Co-founder and Chief Designer of Azilaa, an exquisite antique fashion designer jewellery brand online. Anjali is from the Gurkha community and was born in Darjeeling. Coming from an Army background, she recalls listening to heroic stories about her grandfather and his association with World War II and her father who served India during the 1971 war. As one would expect, growing up amidst army legacies and stories, her life too got imbibed with strong values, ethics, discipline, and courage that shapes her actions even today as an entrepreneur.
Anjali always had a passion for design and handicraft work. She makes authentic, modern and feminine jewellery and merchandises them via her online portal Azilaa.com. She makes it a point to promote Indian artisans work, both, domestically and internationally with a goal of saving the dying form of handmade jewelry.
When Anjali started small in 2006 she received an overwhelming response to her work and that opened up several new opportunities, expanded her thinking, and helped her craft a bigger vision. Which led her to set up in a big way in 2015. She says, "The joy of being able to make a difference in women fashion category, generate employment opportunities for local artisans, and empower a few women to be financially independent is highly rewarding".
In the beginning, one of the biggest challenges Anjali had faced was to source best quality raw materials from the market. She realized she was not being taken seriously. Being a woman, made it even more hard for her to negotiate price and quality with traditional male-dominated wholesale vendors. In fact, she was taken for a ride quite a few times. Anjali felt cheated, sometimes on price and other times on quality. Apart from that, it is a fragmented and competitive market with at least a dozen players trying to copy, steal, and emulate their products and business on a daily basis.
Despite the challenges that Anjali faces every day, she feels a deep sense of satisfaction and her message to all those reading this is, "Everyone should have a dream, a passion and a goal but at the same time one should also work hard to make it happen. If you really want to make a change all you need is immense determination and strong will power to push through the difficulties that come over your way."