AMMA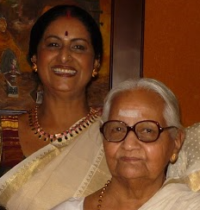 The 1920s when "marumakkathayam" (matrilineal inheritance) was still prevalent in Kerala. A petite, pretty, intelligent girl, wanted to graduate after she successfully completed her intermediate. The "Tharavad Karanavar" (elders of the family) instead, decided to get her married. When she became a widow at an early age with two sons, she shifted to the "tharavad" (ancestral home) where her parents, uncle and sister lived. She took reins of the household efficiently and with ease along with the help of her sister who was her support throughout her days at the "tharavad".
She loved reading. Her brain was like a computer, absorbing anything that gave her knowledge. She had an unbelievable memory till her last day of the 92 years she lived.
In 1972, I entered this family, getting to know this strong, wonderful personality. She never considered me an addition to the family, but as though I always belonged there. Amma was my companion in familiarising me to this ancient 500 year old tharavad with its customs, traditions and history, where its son was one of the first few recipients of Padma Shri in 1952 , where there was a "Sarpa kaavu, Gandharvan and Panchamoorthy kshetram", where daily lamps were lit and thrice a year poojas were conducted. I took part in all this and highly valued the experiences, as we were brought up with strong religious and cultural background, where we were to taught to respect others' feelings and beliefs.
Amma was such a support to me, to the extent she took my side and helped me out of many delicate situations. One of many such was on one of our visits to her place I wore a sleeveless choli. When a visitor commented, without blinking an eyelid Amma said I am from Bangalore and I must be feeling hot here! That day I decided I will not wear sleeveless there or put Amma in any such delicate situation again.
Amma appreciated how well I adjusted to the life there and never shied away from telling others that. She was an extremely cultured person and always saw the positive side of people. When there was negative talk around, she who loved to talk, would be suddenly silent and when the talk continued, she would silently move out of the room. Always went out of her way to be kind, understanding and helpful to the less fortunate.
In her late 80s we decided to permanently shift Amma with us as we felt its high time she rested and relaxed, although she was still as fit as a fiddle. She adjusted to her new life and we knew it was difficult for her. She was already ready to go for movies, was happy to eat out and go visiting relatives with us. She was so proud of my profession as an Interior Designer. I would love to talk to her about my day. In the evenings we sat around chatting over tea till 6 pm when she would shift to the TV to listen to the news . She was so aware of the all that was going on around our country, especially in Kerala. She would brief me on the news whenever we sat together.
On days I worked from home, I would try to stop working by 5:30 PM and in case Amma would wake up sooner from her afternoon nap, she would peep in at my door, see me still at work and silently go and make tea for both of us. That was Amma , always so thoughtful and considerate on the littlest of matters. Amma was least possessive about her son. Always gave us our space and time together. She was sharp, alert, a no nonsense person and never over-emotional but balanced. She never suffered from self pity, because she never felt helpless as she was of help to others till the end of her days.
Amma is my role model and I pray that I can be as good and understanding a mother in law as she was.
This article is written, straight from the heart, by Nirmala Nair a very well-respected interior designer in Kochi.
Disclaimer: The views and opinions expressed in this article are those of the author and do not necessarily reflect the views of The Wonder Women World.