ANUJA PANDEY, LOFTY SPECTRUMS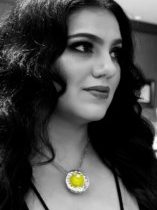 A topper in college (with a background in Law), a voracious reader (who loves to write), a former lawyer in the High Court of Bangalore, meet Anuja Pandey who quit her job to partner with her equally enterprising brother Ashish Dubey to set up Lofty Spectrums – a fashion, travel and lifestyle blog.
Anuja, because of her father's profession, grew up experiencing the fabulous diversity across India. It has helped her easily adapt to people, languages and cultures. She says, these experiences shaped her into what she is today.
Via Lofty Spectrums, Anuja and her brother give voice to not only their sensibilities but to many brands and designers in Bangalore and beyond. They have done successful collaborations with some of the leading jewelry, fashion and lifestyle brands in India and consult on personal and corporate brand styling. Lofty Spectrums have also been roped in as the official grooming, styling and fashion consultants for several beauty pageants.
Anuja says, "It is not easy to keep track of the latest trends and serve what people love to see or read and also keep in mind what our clients have to offer, but what I do gives me immense satisfaction and I get to learn so much in the process". Having only just come out of one her toughest years (losing her mother just before her 60th birthday, Anuja has come to realize that a lifetime is not enough with the ones you love, "so treasure love and relationships over everything else, treasure time and invest it wisely on people who matter."
As for her message to all the wonder women out there, Anuja says, "Love yourself, women are the most wonderful creations of nature, they are most capable – as they produce, nurture, and provide love and warmth. Appreciate other women, try to be the wind beneath the wings of another woman. Live, love and laugh."