SASSY SARASWAT GIRLS!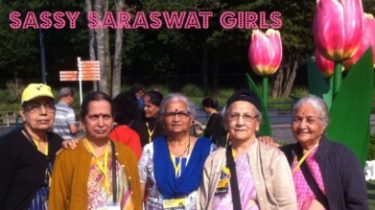 As a daughter, one of the happiest moments of my life was in June 2017. This was the month when my 78 year old mother, set off on her first-ever girl's trip to Europe with two of her besties. The other two women are –my paternal aunt, who is 84 years old and her friend who is 86 years old. For a lot of you, it may be common to see your mothers and aunts take off independently on their vacations. But for me, and especially for the GSB (Goud Saraswat Brahmin) community that these women belong to, this is not a common instance, and in my eyes it is one of the most precious and cherished moments to witness.
The picture of these three sprightly and highly spirited women huddled with their big bags and an even bigger smile on their faces, with all the excitement and energy of young college-going girls giggling away and ready to explore the world on their own is firmly etched in my heart forever. None of their age-related health issues or woes with their knee pain or back aches were able to combat the highly infectious energy levels and zeal that they had to enjoy this trip to the fullest. While their family members fretted and were concerned about how they would manage all by themselves without any support by their side and no means to contact to stay connected daily, these women were a bundle of confidence and that's how they finally took off on their much-awaited rendezvous with Europe.
They returned back to their home-base after two weeks – with renewed energy, even wider smiles, great bonding and a feeling of accomplishment of having successfully ticked off one of the big tickets on their bucket list. And just when I thought they are ready to hang their boots, they are now gearing up their health and bank balance for venturing into their next trip to a secret destination. When I watch these women in action having animated conversations & bouts of laughter about all that they did & wish to do in the near future, I realize this is the way 'To Live &Let Live'. Throughout my life, and especially upon becoming a mother, I have been hugely inspired by the way my mother and these Saraswat women lead their life in a simple and solid manner.
They follow basic principles of a healthy and happy living and have been doing this without having read any self-help books or any internet hacks to lead them on. They have a very intuitive approach towards life, especially towards parenting and motherhood and there is a never a need to glorify what they do or the multiple roles they play in their day-to-day life. They were all mothers at a time when circumstances were difficult, they had less accessibility to money, not many domestic appliances that they could afford, not much domestic help to count on and at least three or more children to manage on their own. Yet, they did all this with élan and with a high sense of ownership and commitment. When I look back at the way these women have raised their children and are now raising their grand-children and also great grand-children, I am simply in awe and admiration at the way they have raised their next generations to be happy and resilient individuals.
While the Saraswat women have exceptionally good culinary skills, they have also mastered the secret recipe of life that provides the right nourishment and supplements to lead a healthy and happy life. Age is merely a number, it's their spirit and positive attitude towards life that makes them sassy & I am hugely inspired by my tribe of these Sassy Saraswat Girls. All of us have such role models in our family, community and sphere of influence that are the epitome on life and happiness. You just need to know how to find them!
The above is an excerpt from Rachana Gupta's debut book titled Happiness ki Khoj (Releasing on 26 January on The Wonder Women World.)
Disclaimer: The views and opinions expressed in this article are those of the author and do not necessarily reflect the views of The Wonder Women World.