RACHANA GUPTA, HAPPINESS COACH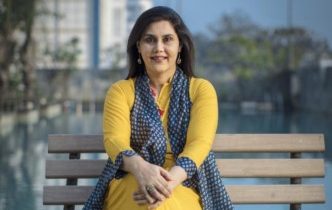 You've met Rachana Gupta on The Wonder Women World before. For those of you who missed that chirpy post from last year, Rachana is a Happiness Coach! Yes, you read it right! In her role, Rachana enables and empowers women to value their happiness over everything else.
The year, 2017 has been a defining year for Rachana. She says, "It has made me unabashedly pursue what makes me happy and take the path less travelled. During the last few months in all my interactions with women, especially with mothers, I realized how, as women, tend to forsake our happiness for the sake of others – be it our children, husband, family, etc."
Having figured out that happiness is an inside job, Rachana wanted to share her learning with others and thus was born her debut book, "Happiness ki Khoj" (The Pursuit of Happiness).
Rachana feels that the book will help you, "understand yourself and your life based on your unique identity, understanding and experiences. It is about enabling you to be at the center of your life and learning to enjoy life as the person YOU are. If you are happy, it has a magical spiralling effect on everything around you—your children, husband, home, in-laws, relationships, heath, career, money and so on. But if you are unhappy then whatever you do, you will feel unfulfilled and will forever be in search of happiness."
Gearing up for the big launch on 26 January, Rachana shares with excitement, "The book has real people and real stories entrenched in the rich Indian landscape which tells us where to find real happiness. This book is a foundation to my life-long commitment towards enabling women to lead happier and fulfilled lives."
The Wonder Women World is thrilled to cheer for women like Rachana who spread positivity and happy vibes and what's more, some exciting offers are coming your way. So stay tuned!