AASHNA BHAGWANI, FASHION BLOGGER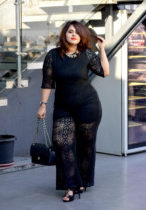 One of India's first plus size fashion bloggers who was bullied as a teenager for being a healthy size. Meet Aashna Bhagwani, Founder and Editor of Beyond that Bouffant where women irrespective of their appearance, size or background are be able to enjoy and keep up with fashion, beauty, lifestyle trends.
Having spent her formative years with her grandmother, who had a boutique, Aashna loved fashion and started her blog in 2014 with hardly any role model to look up to. So she chose to become one. She believes that everything in life comes at the right time feels that making women feel confident in their own skin through her work is her biggest achievement thus far.
Before she made blogging her full-time job and career Aashna mentally prepared herself for harsh comments and resistance from the blogging community. But thankfully, she had the positive experience of having received "nothing but love". The only challenge she faced was making, "hesitant people aware about the body positivity community and how it can create a great impact."
Social media has a massive reach, but on the downside Aashna found that she compared herself to fellow-bloggers and had to remind herself that it was not about the likes, comments or follows but about being true to yourself. And when the going gets tough, Aashna focuses on the bigger picture, revisits her goals and gets back on track with a renewed sense of purpose.
Many of you will agree with Aashna who says that the image or perception that is portrayed in these times is not always right and body confidence / women empowerment are not just buzz words – it is a huge struggle, a read one. But it is not impossible. Having been nick-named, bullied and mocked at as a teenager, confidence did not come easy to her. She has had to consciously work at it and now helps all the other women do the same. With a massive following on various social media platforms, Aashna draws inspiration from her followers and reminds women that "Society is changing and women have a big impact on this change. Either you submit to criticism or you can get on with being your own amazing self and make a huge impact on those around you! The choice is yours!"