SAALUMARADA THIMMAKKA, ENVIRONMENTALIST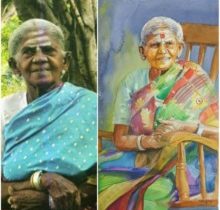 "It was my fate to not have any children. Because of that, we planned to plant trees and raise them and get blessings. We have treated the trees as our children." I am sure most of you have read about Saalumarada Thimmakka from Karnataka, who is admired for being an environmentalist and noted for her work in planting and tending to 384 banyan trees along a four-kilometre stretch of highway between Hulikal and Kudur.
Born in Gubbi Taluk, Tumakuru, Thimmakka endured many hardships in life, but with the support of her husband, she went on to make a huge impact on the environment by planting over 8,000 trees in 80 years. This fabulously self-empowered woman is an example of someone who took control of her life, accepted her situation and transformed it into something meaningful with a lasting impact on the generations to come (probably without even realizing it until much later).
I will allow you take what ever form of inspiration you wish from her story and will leave you with Shipra Gupta​'s beautiful portrait of this phenomenal woman!