CHRISTMAS AT AASRAA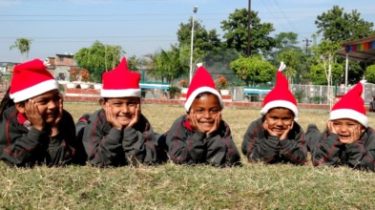 Jingle bells jingle bells, jingle all the way, Santa Claus is coming along, riding on a sleigh!!
It is that time of the year when everything seems to be magical… our hearts fill with joy and cheer. Love engulfs the air and the season brings hope into our lives for a shinier future.
Christmas is a time of celebrating our love, joy, peace and faith. From decorating the Christmas tree to buying gifts for our loved ones, we feel happiness all around us. Every moment is blissful.
Christmas is indeed a time for sharing and giving, too. It isn't always a festive period for those without proper care and shelter. Christmas comes along with the winter season at peak. Winter time in Himalaya is brutal. The cold is bad enough but when the harsh wind blows off the mountain, it is bone chilling freezing.
The slums and streets of Dehradun are homes to thousands of destitute people who have migrated to the city for better livelihoods. Unfortunately, their conditions have barely improved. Children of these families have become rag pickers and beggars to support their parents financially. They work in harsh weathers to make ends meet.
Aasraa Trust is working to reach out to these children and provide them love and care they deserve. Some of them come to our learning centres without any proper clothing or shoes, forget appropriate winter wear! They are cold and under clothed. They are at the constant risk of falling sick.
Every year, we aim to provide adequate winter wear to all our children. During Christmas, we plan to give our children the gift of good health through warm winter clothes ranging from tracksuits to sweaters and school uniform for mainstreamed children (woollen pants and blazers).
All children, irrespective of their backgrounds, deserve to be treated with love and respect. Aasraa has a vision of life with dignity for all marginalized children in Dehradun. In the true spirit of Christmas, all we want is to spread magic and cheer to their lives.
The greatest gifts are not wrapped in colourful sheets. They are those given with open heart, wrapped in love and care. Our ability to share with one another is the greatest gift to bestow.
This holiday season, let's be a helping hand to someone who has nobody to look up to… let the goodness sparkle their paths into the coming year.
We wish you a Merry Christmas and a Prosperous New Year!
If you'd like to support us or make a donation, please visit the "Donations" page on our website
www.aasraatrust.org or write to us at communication@aasraatrust.org!
Disclaimer: The views and opinions expressed in this article are those of the author and do not necessarily reflect the views of The Wonder Women World.