NINA MANSUKHANI, DOCTOR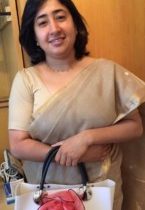 "I really feel that genuine empathy and honest care play a big role in easing a doctor-patient relationship. Even in the most difficult cases honesty is imperative." says Dr. Nina Mansukhani, Obstetrician/Gynecologist and founder of the clinic, Touch of Life in Pune.
41 year old Nina, is a proud army brat and army wife. With over 18 years of experience in the field of OBGYN, Nina says she loves the concept of "bringing forth life from another life" and feels exhilarated every time she welcomes a new life into this world.  She strives to run a clean, wholesome practice and strongly believes in being able to provide affordable medical care to all sections of society.
Nina shares that it takes a lot of personal sacrifice to become a doctor and that she encounters complicated cases on almost a daily basis that challenge her and ensures she constantly re-invents her skills and knowledge to stay abreast with medical advancements.
On the personal front, Nina and her husband successfully manage a long distance marriage. She admits it takes a lot of effort to stay connected and involved in each other's lives especially while he is posted in remote locations (at one time it was the Siachen Glacier), but she believes distance is not counted in miles but between two hearts and they are proof that long distance marriages do work!
Nina recounted an especially tough phase where she injured three fingers of her left hand in a kitchen accident and it worried her that would lose her skills as a surgeon. She did recover and got back to active practice but she calls it a turning point in her life as the whole experience was humbling and made her cherish everything that one normally takes for granted in life.
Apart from successfully managing a busy practice, playing the role of an army wife with multiple social responsibilities, Nina spends quality time with other army wives via personal touch/ messages/ phone calls/ visits to home and uses her professional skills to better their lives. When asked if there are days it all gets too much to handle, Nina, replied with warmth, that her husband, parents and sister are her source of strength and she powers through those tough days because she believes in, "strengthening hope in people and genuinely making a difference in their lives."