PURNIMA GOKHALE–KESANUR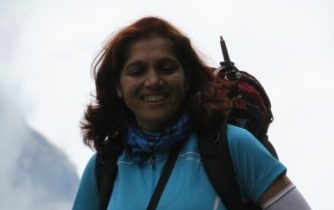 Hailing from a small town (Dharwad, Karnataka) where things are not as complicated as the hussle-bussle of life in a metro, 47 year old Purnima Gokhale-Kesanur considers becoming independent, self-sufficient and living life on her own terms as her biggest achievement.
Mother, lead technical writer, physics teacher, mountaineer and an active participant in conserving nature and wild-life. This multi-dimensional wonder woman has completed a Himalayan trek (16500ft!) without knowing what it entails, ventured into the deep forests, got chased by an elephant – all this so she could help complete a tiger census!
Totally impressed with all that Purnima has accomplished, I wanted to know what drives her and she said "Be it at work or life, I have always taken on challenges" and she went on to elaborate, "What I have learnt is that instead of taking up what is in front of you with the thought "Can I do it?" go with the thought "I can do it" and it changes the whole perspective and you will be able to face any challenge that life throws at you."
Purnima believes that one needs the right attitude towards life and that there is learning in whatever you see around you "Mountains teach us humility, flora and fauna, empathy and people teach us patience". One needs to just keep an open mind and be receptive to the endless lessons that life teaches you.