SUJATHA BALAKRISHNAN, THEATRE FOR CHANGE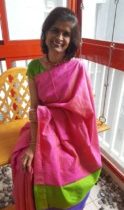 "Age is just a number, defy the myth about ageism" says 60 year old Sujatha Balakrishnan teacher, counsellor and a theatre actor based in Bangalore. I immediately filed away this little piece of advice knowing it will come in good use someday.
Being a theatre person, Sujatha started "Theatre for Change", which addresses social issues in a theatrical format. It is based on her strong belief that art forms must go beyond entertainment and involve social criticism and political activism. Sujatha went on to explain that Theatre for Change is not about acting skills, but how compassionately and convincingly a social message is conveyed.
From autism, ageism, casteism, the plays are thought provoking, sensitive and emotional always ending on a positive note. The protagonists are mostly always children, and those who are differently abled, autistic or with special needs are encouraged to take the centre stage. At the end of it all they undergo an attitudinal change and are sensitised to various subjects and social issues.
From participating in a Shiamak Davar workshop at 52, to playing a part in the "The Vagina Monologues" at 58, Sujatha calls her life fantabulous and I cannot think of a better word to describe it either. But, that does not mean her life is a bed of roses, she too has faced ups and downs but it is her attitude that sets her apart. The message she wanted to share with all of you reading this is to always leave your ego at the door as you enter any space, even your homes. Be a people's person, respect one another's opinion and follow your heart, don't worry about what society has to say about the choices you make!